What a long break we've taken from doing recipes!  But Dustin does seem to get some interesting topics going here, so never a dull moment on this site!  We do plan to address your requests from awhile back regarding what you'd like to see here, including the new recipe ideas, etc.  But ever since Tracy, Dustin's nutritionist, did those articles on soy products, the thyroid, coconut oil, etc., some of my basic dietary understandings have been upended big time–anybody with me on that one??  I felt like we should delete all my past postings of recipes, for starters!   Then I had the further eye-opening experience of hanging with her at your awesome Farmer's Market at your capitol this summer–what an education, believe me; she knows so many of the vendors and exactly how their product is raised/grown, etc.  She really does need to do Farmer's Market tours, just like Dustin's grocery tours!
The coconut oil got me quite excited-I have lots of books from the library and have been trying out recipes, etc., plus being in touch with Tracie with all she has researched and learned with her clients.  Tracie will be writing a blog post next week on coconut oil but I thought in the meantime I would share some recipes.
Here is a quick story before I share the recipes……now that we have been REALLY reading labels, we have discovered that soybeans have truly invaded the planet-even my vit. E capsule has soybean oil in it-yikes!  The other day I was at a natural foods store with my friend Kristy and she picked up some mayo–we read the label and of course there was our friend the soybean oil; after cautiously telling her about it and coconut oil (who wants to be the person who is always telling you how bad that food is that you are about to buy?!), I got home fast and emailed her a recipe from my Bruce Fife book for coconut mayonnaise…..at her request.
Here it is:
COCONUT MAYONNAISE:
1 egg
1 T. apple cider vinegar
1/2 T. prepared mustard
1/4 t. paprika
1/4 t. salt
1 1/4 c. melted coconut oil
Blend the first 5 ingred. plus 1/4 c. of the coc. oil for 60 seconds. While machine is running, pour in the remaining oil very slowly in a fine, steady stream. Each T. of the mayo with have about 1/2 T. coc. oil.
If you have been using coc. oil, you will know that this will harden in the fridge; just let it sit at room temperature half an hr. or so to soften. They recommend using this within several days and say that the texture is best when freshly made. Makes 1 1/2 cups.
Okay, gotta' tell you that I have yet to experiment with this or any dressings, so feel free to share your experiences!
VINEGAR AND OIL DRESSING:
1/4 c. coc. oil
1/4 c. extra virgin olive oil
3 T. water
1/4 c. apple cider vinegar
1/2 t. salt
1/8 t. black pepper
Shake all ingred. in a jar and let stand for 1 hr. before refrigerating.
The oil will harden in the fridge, but let sit out or place jar in hot water for a few minutes; because of the olive oil in this recipe, it should not harden on your cold salad. Makes 1 cup.
The following recipe that uses the unsweetened grated coconut is in the Coconut Cures book and is part of one of the purges. I tried this recipe simply because I fell in love with Puerto Rican macaroons when I lived there-in fact, we had lots of coconut products all around us; at roadside stands you could stop for agua de coco, sipped through a straw right from the freshly picked coconut.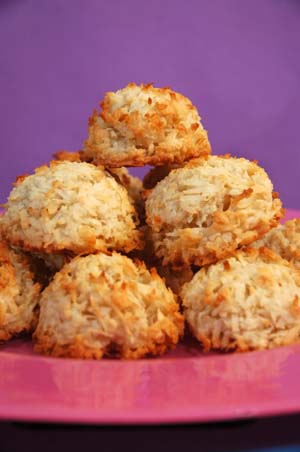 COCONUT MACAROONS:
2 egg whites at room temp.
dash of seasalt
1/2 t. vanilla
2/3 c. sugar
1 c. shredded or grated unsw. coconut
Beat the first 3 ingred. til soft peaks form. Gradually add sugar, beating til stiff. Fold in coconut. Use a well greased cookie sheet and bake at 325 degrees for 20 min.. Let cool 1 min. then remove before they stick like glue to the pan! Mine still stuck horribly, so next time I will try parchment paper or grease a lot heavier. I haven't experimented with the sugar in this recipe-just used some organic cane sugar-but may try some stevia and agave.
I just talked to Tracy and she has made these macaroons using only agave, so here is her recipe:
Coconut Macaroons
– 6 egg whites
– ¼ teaspoon sea salt
– ½ cup agave nectar or honey
– 1 tablespoon vanilla extract
– 3 cups shredded coconut
1. In a mixing bowl whisk egg whites and salt until stiff.
2. Fold in agave, vanilla and coconut.
3. Drop batter onto a parchment lined baking sheet, one rounded tablespoonful at a time.
4. Pinch each macaroon at the top (like a kiss).
5. Bake at 350°F for 10-15 minutes, until lightly browned.
http://www.elanaspantry.com/coconut-macaroons/
One more thing, I use coc. oil exclusively now for cooking, just keep the temp. down a bit so it doesn't smoke; and I throw in a T. in my smoothies or hot tea….am trying to get in the recommended 3-4 T. daily.
Would love for some feedback from those of you who have hung around in the coconut groves more than I have! And if you have any knowledge about refined vs. virgin coc. oil, let's have it! It goes against all we have had ingrained in us, to even consider refined anything to be better, eh?? A little side benefit is that a gallon of refined oil can be purchased online for $24, includ. shipping! We all know what we pay for the virgin stuff!
Keep eating~healthy! 🙂
Dustin's Mom~Joy
30 Healthy Snacks, 21 Healthy Snacks,  Chocolate Chip Cookies,  Chocolate Tofu Pie,  Pureed Vegetables, Roasted Veggies,  Quinoa,  Chicken,  Omelet,  Pizza,  Guacamole,  Hummus,  Carrot Soup Campfire Food Protein Bars 7 Day Meal Plan
I want to hear from you!  How have you used coconut oil?